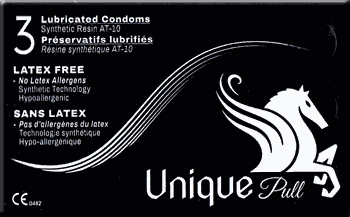 Ultra-thin.  Ultra-strong.  Luxury Condom.
UNIQUE Pull is truly a one-of-a-kind condom - and its about to rock your condom world. Aptly named, their innovation is guaranteed to be nominated for the Pleasure Hall of Fame. The thinner the condom, the more pleasure you experience with your partner. UNIQUE Pull provides a greater degree of heat conductivity, so that you fully feel the body heat of your partner.
Made from high-tech synthetic polyethylene resin, odorless, non-latex condom UNIQUE Pull is 3x stronger AND 3x thinner than conventional (latex) condoms. When using UNIQUE for the first time, many say they had to check to see if the condom was in place because they could not feel it during sex. Unique Pull is offered in a three pack designed to keep in your wallet.
CONDOM PRO-TIP: UNIQUE is designed to conform best to a non-lubricated penis. However, exterior to the condom, do feel free to use any of the superior lubricants we offer.
UNIQUE is entirely about quality over quantity in manufacturing one of the best performing condoms in the world. Every package is hand assembled. When you use UNIQUE for the first time you will notice its pull strips.

The genius of the application process is that when the pull strips are pulled toward the body the condom goes on quickly and easily, while the strips magically detach from the condom.

NOTE: If you require a slimmer fit condom, this condom will not be comfortable for you.
UNIQUE is for connoisseurs who know a thing or two about sex and want protection with a much better sexual experience. Try UNIQUE and you'll thank us. Guaranteed.
DIRECTIONS FOR USE:
1.   Pull tabs should be facing up
2.   Pull the condom on an erect penis by pulling the pull strips toward the base of the penis.
      DO NOT PULL SIDEWAYS!
3.   When condom is fully unrolled the strips detach.
Reviews for
UNIQUE Pull Condoms