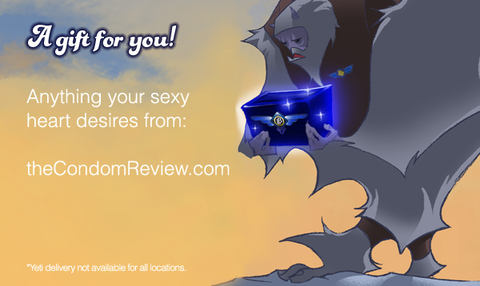 Give the Gift of Amazing Sex.
Impress all of your friends with your generous and sexy nature.
Shopping for someone, but not sure what to give them?
Give them them the sexiest gift of choice with a theCondomReview.com Gift Card.

Whether you require a gift for a Sexy Sidekick ($10) or a Galactic Safe Sex Guardian ($500),
we've got you covered!


NOTE: Gift cards are delivered by email and contain all necessary instructions to redeem
them at checkout. Our gift cards have no additional processing fees.
As long as there are funds available, Gift Cards can be used for multiple purchases...
And, they NEVER expire!
Reviews for
theCondomReview.com Gift Card
LUCKY BLOKE HQ
from
GLOBAL
on
Nov 24, 2013
We'd like to rate our Gift Cards 10 Stars...because, frankly, what is better than the gift of amazing sex?!
We really can't think of anything. ...Agree?! Disagree?! Let us know, with your own review.