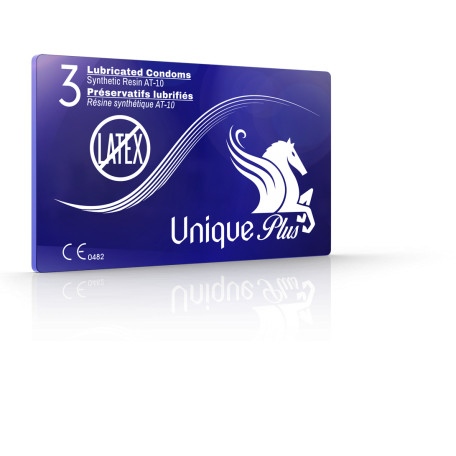 Ultra-thin.  Ultra-strong.  Luxury Condom. Now Even Larger.

Apologies! Manufacturer temporarily out of stock.

UNIQUE PLUS is brand new and we can't wait to hear what our customer's think.
The thinner the condom, the greater the pleasure. Made from high-tech synthetic polyethylene resin, odorless, non-latex condom UNIQUE is 3x stronger AND 3x thinner than conventional (latex) condoms. Of course, they are also vegan.

Unlike the Unique Pull, these do NOT have pull tabs.  
Please be sure to email us and let us know what you think of this new condom. We are very eager for feedback!
Length: 190 mm – 7.48 inches
Width: 60-62mm
Thickness: 0.015 mm

UNIQUE PLUS CONDOMS ARE SOLD IN A 3-PACK THAT FITS IN YOUR WALLET.

NOTE: If you require a slimmer/tighter fitting or standard fitting condom, this condom will not be comfortable for you.  


CONDOM PRO-TIP: UNIQUE is designed to conform best to a non-lubricated (dry) penis. However, do feel free to use any of the superior lubricants we carry, on the outside of the condom for your partner's pleasure.
Reviews for
UNIQUE PLUS