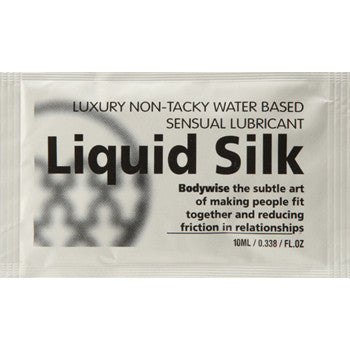 Bodywise Ltd. | Liquid Silk
2 reviews
Sorry, this product is unavailable.
Luxurious. Liquid. Silk.
LIQUID SILK is not currently FDA approved and can no longer be sold in the United States.

We suggest these similar products: BEST SELLING HYBRID LUBE OPTIONS

From the United Kingdom, comes Liquid Silk – a luxurious, non tacky, water based lube (with a hint of silicone) – formulated to enhance sexual intercourse, intimate massage, and foreplay. 
Liquid Silk is touch sensitive and designed to reduce the risk of breaking skin. You'll find it leaves your skin feeling soft, supple, and well conditioned. Bodywise Ltd., makers of Liquid Silk, state that it's also formulated to be bio-static – meaning should the lube come in contact with any bacteria, yeast infection or fungal spores it will stop them spreading.  

Please note: this formula does contain glycerin and parabens.

Available in a single .4oz (10ml) foil packet, and a 6-pack of .4oz (10ml) foil packets
Reviews for
Bodywise Ltd. | Liquid Silk
Ceecee
from
Chicago
on
Jun 10, 2014
This lube is sexy, non sticky, feels like silk on your skin and helps you to enjoy a body and mind blowing love making experience.
Jer and Marjie
from
Los Angeles
on
Jun 10, 2014
This Lub was great.
A little bit went a long way.
It felt very creamy/velvety even though it is water based.
The only down side is that it contains parabens. Which bums us because we really were going to order more of it.
But if you don't mind that, this is the lub to go to!